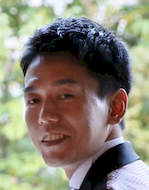 [

] Last update: 2023-11-13 13:24:23 +0000
Tomohiro Manabe
Research Interests and Selected Publications
Logical structure of tree-structured documents
Block-based web search
Effective and efficient evaluation of document rankings
Tomohiro Manabe, Akiomi Nishida, Makoto P. Kato, Takehiro Yamamoto, and Sumio Fujita.
A Comparative Live Evaluation of Multileaving Methods on a Commercial cQA Search.
In SIGIR, pp. 949-952, 2017.
Makoto P. Kato, Akiomi Nishida, Tomohiro Manabe, Sumio Fujita, and Takehiro Yamamoto.
What Rankers Can be Statistically Distinguished in Multileaved Comparisons?
In CIKM, pp. 2081-2084, 2020.
All publications in English / All publications
Career Summary
Other Activities
Program Committee Member
SIGIR 2018 (short papers on applications of IR)
NTCIR-14 (post-conference proceedings)
SIGIR 2020 (short paper)
SIGIR 2021 (short paper)
SIGIR 2022 (long paper)
CIKM 2023 (applied research papers)
Links